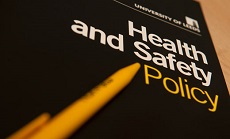 Having a health and safety policy in place is crucial when running a business. It's a legal requirement to have your policy in writing if you employ five or more people. You should also make sure your policy contains the right information, in case a health and safety inspector pays you a visit.
So, when it comes to putting together your health and safety policy, what should you include?
Key sections of your policy
First, it's important to mention that a good health and safety policy is set out in three sections. These are policy statement, responsibilities, and arrangements.
Understanding each section and what it should cover, which is relevant specifically to your business, can help you know what to include when writing your policy.
Policy statement
This is your statement of general policy on health and safety in business. Sometimes called a general statement of intent, the statement, which you should sign and date, should set out your commitment to health and safety in your place of work.